There are many things that could make you feel the need to renovate your bathroom, including:
Flipping through the pages of an interior design book,
Spotting an advertisement for the newest bathroom fixtures in a magazine,
Realizing that the existing bathroom is seriously out of date,
Being dissatisfied with specific features, and a host of other factors.
However, whether you are thinking about changing the fixtures or coming up with a new design, there are some things you should keep in mind when remodeling your bathroom to avoid having an odd outcome.
These design recommendations for a bathroom renovations project.
Install a corner sink
To improve the flow of traffic in a small bathroom, you may want to consider installing a corner sink. These sinks are a good option for small spaces because they take up less room and leave the traffic lane unobstructed. It's generally best to place the corner sink across from the toilet rather than the bath, as this can help prevent the opening and closing of the shower door from creating an awkward or inconvenient walkway. Overall, a corner sink can be a practical and stylish choice for a small bathroom.
Paint the bathroom
For a small bathroom renovations project, paint your walls a bright color and use accessories like towel bars and frames to add personality. Add an old-fashioned cabinet to feature natural textures, maybe in the style of a farmhouse or French provincial home.
Make use of a shower curtain
In case of a small bathroom renovations project, you might want to think about using a shower curtain rather than a glass door, which takes up space when you open or close it. When considering bathroom remodeling ideas, you can also choose to forego the bath door option to fit 60-inch-long tubs in the available space.
Admit more natural light
Bring in natural light with a tall window or skylight and blend in complementary colors such as green or beige for a warmer feel. Use reclaimed or vintage pieces in your bathroom decor, like:
Antique tiles or
Unique shower curtain rings.
Consider vanity style and location properly
When planning small bathroom renovations, it may be helpful to consider using a rounded vanity instead of a square one. This can help create more space on the floor for small items and give the bathroom a more cohesive, cohesive look. A banjo-style counter arrangement can also help create a minimalist, uncluttered appearance. To add storage without sacrificing floor space, you could also consider using a stone or wooden slab as an extended countertop. This can provide a place for a few essential items without affecting the placement of the toilet or other features.
Use a large-scale pattern
Even though the bathroom's square footage remains the same, a wide stripe pattern, also known as a large-scale pattern, can make the space appear larger. This would create the impression of a larger space.
Glass panel installation
Effective alternatives to shower doors include glass panels. This would give the necessary elbow room while preventing water from splashing into the toilet area.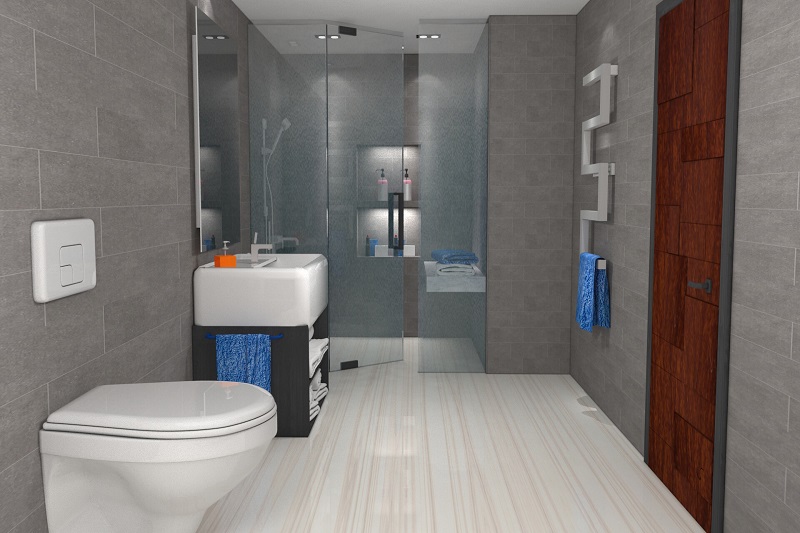 Putting a towel bar in place
Mounting towel rods or a shower door can keep items dry and accessible when there is not much room.
Installing a trough sink
For narrow and small bathroom renovations project, a trough sink is the perfect solution. The trough sinks' low profile makes it possible to clear the floor space, use the same as functional storage, and create room for foot traffic.
Mounting faucet on a wall
In terms of the fixture itself and the additional space you would be able to use, in case of small bathroom renovations projects, wall mounted faucets are fantastic. Anywhere, such a faucet would look good with this simple traditional look.
Conclusion
A refurbished bathroom can not only make your space look bigger, but also add value to your property. Small bathroom renovations projects can be stressful, no matter how thrilled you are with the outcome. To complete a renovation project without any hassles, it is important to mentally prepare yourself to put up with the inconveniences that will arise during the renovation period and to make plans for how to handle them. Budget-conscious planning is essential to the renovation project's success. It is not a pleasant idea to remodel the bathroom however you please and then deal with financial difficulties later. Therefore, careful planning and up-front cost research would aid in managing the renovation project while giving proper weight to all the priorities.